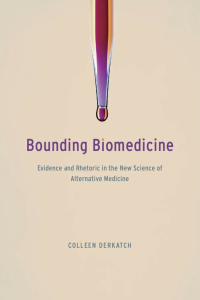 I work in the Department of English at Ryerson University in Toronto, Canada, where I teach courses on rhetoric and writing studies and conduct research on rhetoric of science, medicine, and health.
I am delighted to have received the 2017 Ryerson University Deans' Research Award (early career category). This award "recognizes individual faculty members on an annual basis for outstanding scholarly, research and creative activities (SRC) achievements and impact on their disciplines during the previous academic year."
On this page, you'll find information about my book Bounding Biomedicine: Evidence and Rhetoric in the New Science of Alternative Medicine, my other current and past research, and my teaching.
You can email me here. If bluster is more your thing, you can find me on Twitter at @colleenderkatch. I'm on sabbatical 2017-2018.